Saltwick Bay and Storm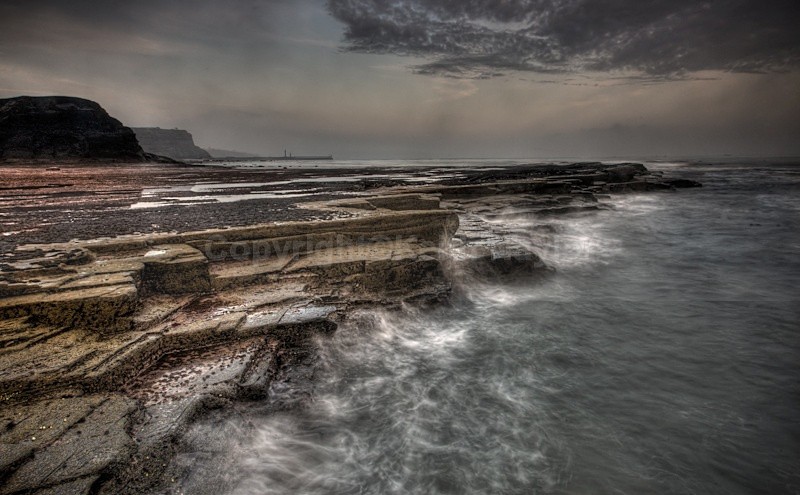 A fairly grim day at Saltwick Bay, North Yorkshire. Not much light to play with, but I managed to salvage something from the day.

This image was taken just after dawn from a rock which hangs over the water. The tripod is on the very edge of the rock in order to get that diagonal line to lead the eye in from the left hand bottom corner.

The exposure is about 2 seconds, though you wouldn't know that from the image. The waves were not particularly large and tended to peter out just before hitting the rocks. I tried several shutter speeds to get a range of effects. This is the one I liked best. In order to change the shutter speed, but maintain a deep depth of field I used a number of Lee Neutral Density and Graduated Neutral Density filters of various strengths.

Post processing:
Open one single Raw file in Canon Digital Photo Professional and change the exposure setting to -2, save a new version of the raw file. Repeat this for -1.5, -1.0, -0.5, 0, +0.5, +1.0, +1.5 and +2.0 exposures. This gives nine variations of the raw file at 0.5 stop increments.

Open all none raw files in Photomatix Pro and generate a 32bit HDR image. Process using the tonemapping option and save to a 16 bit TIFF. I try to keep the tonemapping and HDR settings as close to natural as possible.

Open in Photoshop and process as normal, contrast, curves, sharpen etc. Add a vignette - pretty much my usual Photoshop workflow.
| | |
| --- | --- |
| | |